In search of an iPhone 6 Plus case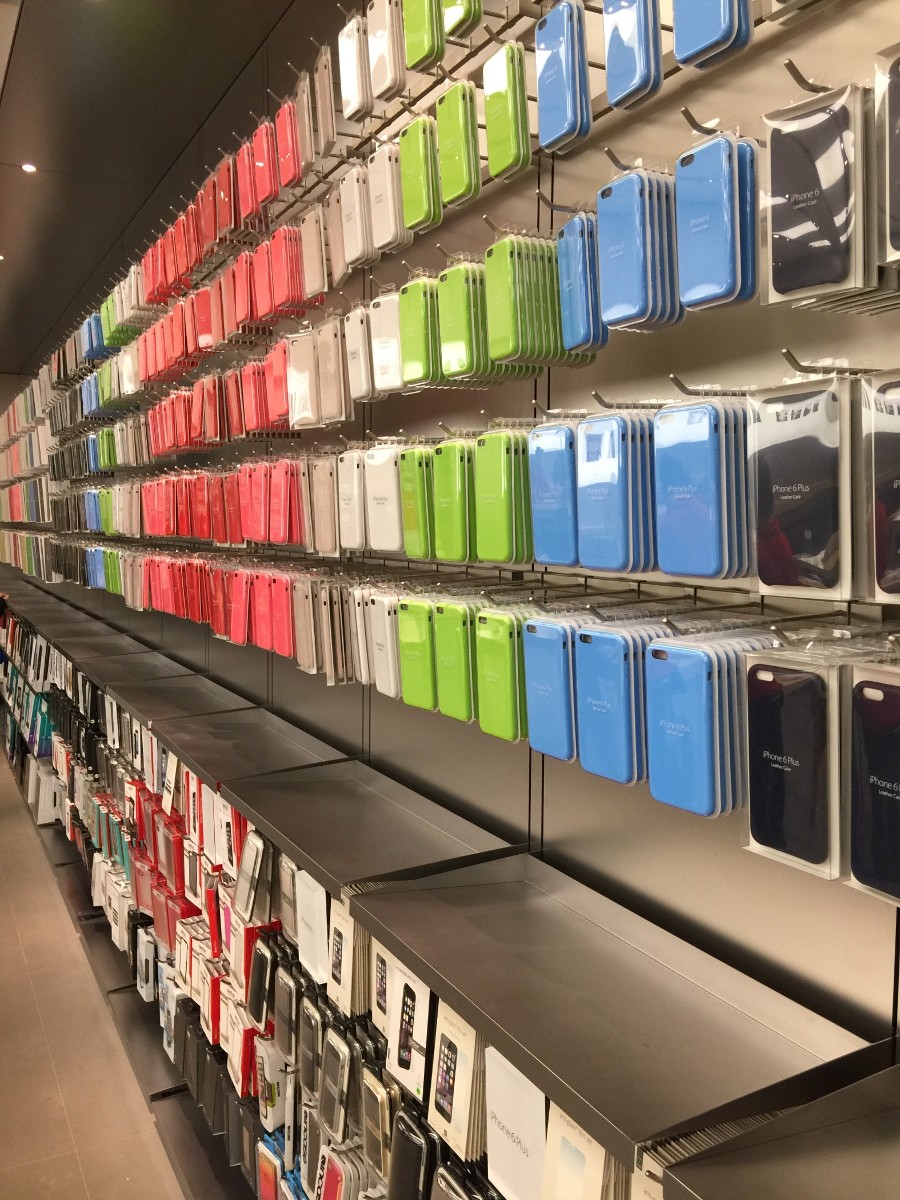 The one thing about the iPhone 6 Plus is that it's so large it seems like it's almost a given that it's going to get dropped, and the smooth aluminum back doesn't really seem like it would help in that regard. The phone is large enough that you have to move it around in your hand sometimes to access stuff, and I still haven't quite adjusted to getting a "proper" grip on it.
So, this is basically the first iPhone that's made me feel the need to slap it in a case on day one. So, off we went to Yorkdale last night to see the case options at the Apple Store….
Surprisingly, there weren't any real "options" there. I'm going to blame this on the influence of that Burberry chick, but it seems that we're now faced with a wall of Apple cases. Granted, it's colourful, and it looks cool, but it's pretty limited compared to what you used to be able to find at the Apple Store.
In fact, I'd heard murmurings from manufactures we spoke with at CES that this is in fact Apple's new direction…. More 'boutique' and less 'mass market' and clearly that's where things seem to be headed.
Granted, there were a few other options, below the wall of Apple cases, but they got the bottom third of wall space, and spanned from iPhone 6 Plus all the way over to various iPod and iPad models. I counted about a dozen other iPhone 6 Plus case options, and the only brand I really recognized among them was In Case (a company that seems to have generally enjoyed a cozy relationship with Apple over the years). There was no sign of other companies that have been the mainstay of the iPhone case industry — Speck, Twelve South, Incipio, Griffin, Belkin — all were conspicuously absent from the offerings at the Apple Store.
In the end, I picked up a $55 (CAD) Apple Leather case, figuring it's better than nothing (and cheaper than repairing a broken iPhone 6 Plus). Further, Apple's fourteen-day return policy means that I'm not entirely stuck with this case; I still plan to search out something better, but this will do for now.